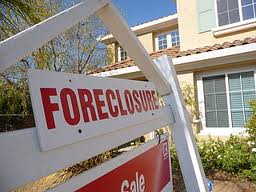 Many people facing foreclosure wait until the last minute to meet with a bankruptcy attorney, usually because bankruptcy was an option they did not want to consider or because they thought they would be able to work something out with their bank. However, bankruptcy is often the best option for those facing foreclosure, especially when a bank or mortgage company has refused to negotiate. As federal law, bankruptcy can provide immediate relief. This is because the filing of a bankruptcy petition immediately places a bankruptcy debtor's property under the protection of the bankruptcy laws. Once a person a person files a bankruptcy petition, that person's creditors must cease all collection efforts. This includes commencing or continuing with any pending lawsuit, including a foreclosure. What is important for those facing foreclosure, and for those who wait until the last minute, is that once a person files their bankruptcy petition any pending foreclosure sale of that person's property is put on hold (either permanently or temporarily, depending on certain factors) even if their bank has obtained a final judgment scheduling the sale of the property.
Foreclosure and Chapter 13 Bankruptcy
Perhaps the most relief for homeowners facing foreclosure, especially those homeowners who wish to keep their property, is provided under Chapter 13 of the bankruptcy code. Chapter 13 bankruptcy gives a person a chance to save their property by stopping a foreclosure and by allowing them up to five years to pay the past due amount on their mortgage by making monthly payments through a payment plan, known as a plan of reorganization. A person can also use Chapter 13 bankruptcy to get caught up on past due payments and other fees owed to condominium and homeowners' associations, including assessments. When a person is making the payments on a property through his or her plan of reorganization, that property is under the protection of the bankruptcy the entire time. However, it is not necessary to be in foreclosure to be able to use Chapter 13 to get caught up on past due payments on a property. In fact, the sooner one acts the better because there will be less past due payments, late charges and fees and a foreclosure results in the bank incurring additional costs that will be added to the loan.   It is a good idea for a homeowner to meet with a bankruptcy attorney as soon as they start receiving letters from their bank threatening foreclosure or as soon as they become more than two months behind on their mortgage payments.  For more information on how Chapter 13 bankruptcy can help homeowners, see our Chapter 13 Bankruptcy page.
Foreclosure and Chapter 7 Bankruptcy
For many property owners it is not worthwhile to save a property or their finances simply will not allow them to make regular monthly payments on their property. In this situation a petition for bankruptcy under Chapter 7 is often beneficial. Chapter 7 bankruptcy is a faster and less expensive process that does not involve a plan of reorganization. Under Chapter 7 many people are able to simply eliminate most of the debts associated with a property (such as the balance on the mortgage remaining after the foreclosure sale, known as a deficiency), and at the same time eliminate other debts they may have, such as credit card debts and medical bills, and prevent creditors from taking action against them to collect those debts.
It is important to know that a Chapter 7 bankruptcy will only stop a foreclosure sale temporarily. There are no provisions in Chapter 7 of the bankruptcy code that are designed to help a debtor save their home from foreclosure by a legitimate mortgage holder. A bank will have permission to proceed with a foreclosure one the court has entered the Chapter 7 discharge, which usually occurs about 90 days after the bankruptcy petition is filed, or may receive permission even earlier if it petitions the bankruptcy court.
If you are facing foreclosure and you wish to keep your property, it is critical that you act immediately as foreclosure and a judicial sale will cause you to lose title to your property. Contact our office to schedule your free consultation with a bankruptcy attorney to learn what options are best for you. We offer fee consultations at our offices in Miami and Fort Lauderdale, and are available for Saturday consultations at our Fort Lauderdale office, located in Weston.